As a parent, as soon as you hear "back to school" your mind instantly goes straight to the typical checklist;
Uniform? Tick! Shoes? Tick! Stationery? Tick!
But have you considered their immunity?
There's no hiding from the fact that we're heading towards winter and with that comes the infamous "cold and flu season."
You can bet that those dreaded germs will spread quicker than you can say 'Achoo' as soon as your child enters the classroom… there's always something going around!
CHOOSE LIPOLIFE® IMMU-POW VITAMINS C & D3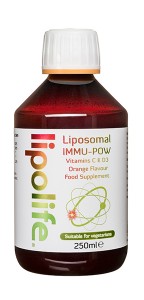 …send them back to school healthy, protected and strong.
Lipolife® formulations, deliver nutrients directly to the cells, ensuring much higher absorption.
For more information about getting #backtoschool with LIPOLIFE® IMMU-POW, CLICK HERE!