A nutrient for immune health and for the good of your hair, skin and nails.
Ultra-Pure Water, Phospholipids (non GMO Sunflower, Lipoid), Zinc (as Zinc Gluconate), Xylitol (sweetener), Natural Morello Cherry and Kiwi Flavouring, Glycerol, Ethanol, Potassium sorbate (preservative), D-alpha-tocopherol (anti-oxidant)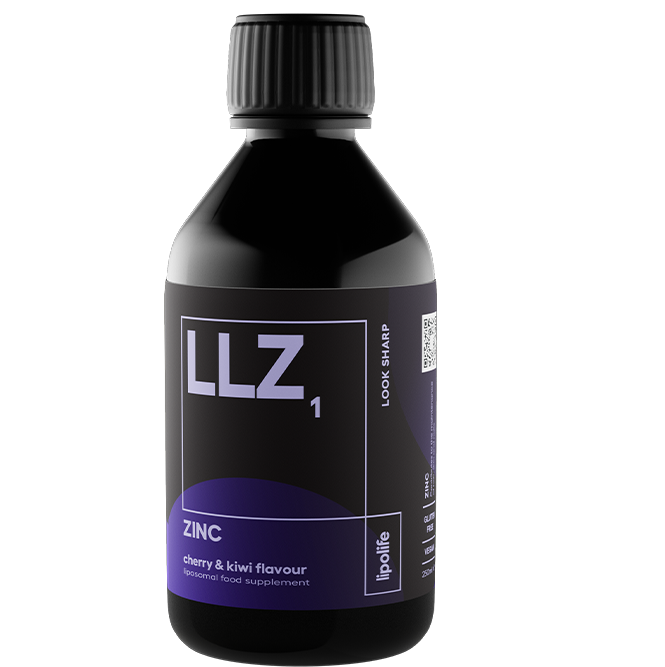 Tastes best chilled. Shake before use, take 5ml per day or as professionally directed.
Zinc, a nutrient found throughout your body, helps your immune system and metabolism function. Zinc is a trace mineral, meaning that the body only needs small amounts, and yet it is necessary for almost 100 enzymes to carry out vital chemical reactions. It is a major player in the creation of DNA, cell-growth, building proteins, healing damaged tissue and supporting a healthy immune system. Because zinc helps cells to grow and multiply, adequate zinc is required during times of rapid growth, such as childhood, adolescence, and pregnancy. Zinc is also involved with the senses of taste and smell.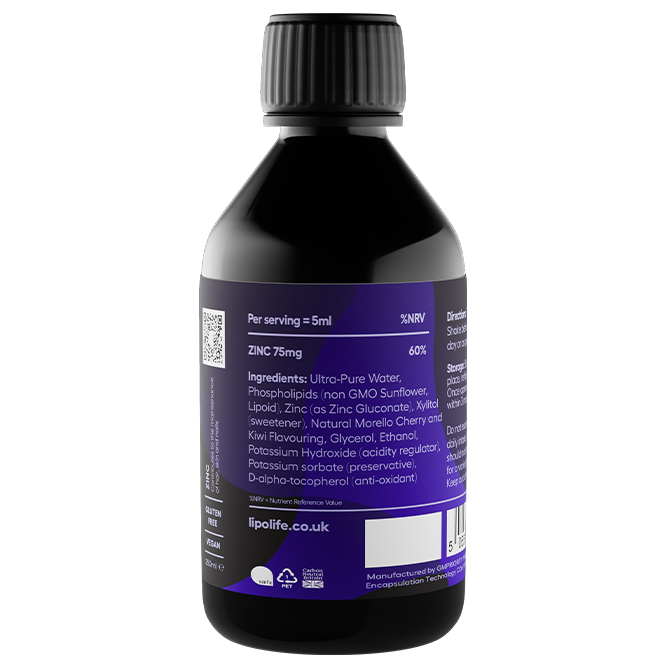 Potential Benefits of Supplementing with LLZ1 - Zinc
Zinc contributes to the maintenance of normal hair
Zinc contributes to the maintenance of normal skin
Zinc contributes to the maintenance of normal nails
Zinc contributes to normal DNA synthesis
Zinc contributes to normal acid-base metabolism
Zinc contributes to normal carbohydrate metabolism
Zinc contributes to normal cognitive function
Zinc contributes to normal fertility and reproduction
Zinc contributes to normal macronutrient metabolism
Zinc contributes to normal metabolism of fatty acids
Zinc contributes to normal metabolism of vitamin A
Zinc contributes to normal protein synthesis
Zinc contributes to the maintenance of normal bones
Zinc contributes to the maintenance of normal testosterone levels in the blood
Zinc contributes to the maintenance of normal vision
Zinc contributes to the normal function of the immune system
Zinc contributes to the protection of cells from oxidative stress
Zinc has a role in the process of cell division
Related articles and videos