A unique tripeptide form of glutathione, Setria has been clinically shown to raise blood glutathione levels.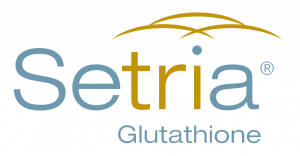 Manufactured using a fermentation process, Setria® Glutathione is a powerful tripeptide that enhances the glutathione content of critical tissues. Glutathione is the most important antioxidant in the body.
Setria® Glutathione is L-Glutathione or Reduced Glutathione and is superior to other glutathione based on the following features:
Clinically studied to increase blood glutathione levels and support the immune system
A pure and safe material with an assay value of 98.0% – 101.0%
Present within every cell, glutathione is the body's primary defence against free radicals. Unfortunately, the body's need for glutathione is sometimes outpaced by its ability to produce it. Glutathione is at its lowest level in the morning and should be replenished daily through a healthy diet and supplementation.
The great protector, without glutathione, each cell would become so ravaged by free radicals that it would disintegrate. A lack of glutathione would also negatively impact the liver and immune system. By fighting free radicals, glutathione supports the liver so it can carry out its job of detoxifying the body. Likewise, preventing free radical damage also helps promote a healthy immune system.
Our bodies obtain glutathione in two ways: from the foods we eat and from our own internal production. Because of the body's ability to make glutathione, it is not considered an "essential" nutrient.  Exposure to toxins, ingested and environmental chemicals and even things as healthy as exercise can all increase free radicals and ramp up your body's need for glutathione.
Time of Day: According to researchers at Emory University, levels of glutathione vary over a 24-hour period, spiking about six hours after each meal and hitting their lowest point in the morning hours.
Age: Young, healthy people tend to have enough glutathione. However, glutathione levels start to decline at around age 45 and continue to decline until death.
Health Conditions: Glutathione status may be depleted by a variety of different health conditions.
Diet: The best dietary sources of glutathione are freshly prepared meats and fresh fruits and vegetables (both raw and cooked). Most processed foods have little to no glutathione.
Glutathione Antagonists: Some foods – such as cereals, bread, and dairy products – are not only lacking glutathione, they actually act as glutathione antagonists. Common beverages such as tea and coffee also contain glutathione -destroying compounds, although in lower concentrations.
Lifestyle Factors: Because cigarette smoking and excessive alcohol intake cause an increase in free radical production, both habits deplete glutathione levels.
Medications: Both prescription and over-the-counter drugs can lower glutathione status.
Weight: People who are overweight tend to have lower glutathione levels than those who are within normal weight range because excess fat is correlated with oxidative (free radical-induced) stress.
"A little over 50 years ago it was recognized that many chemicals we are exposed to are activated in the body to reactive chemicals. The most central way that the body gets rid of these is by reacting them with glutathione."
– Dr. Dean Jones PhD, Professor of biochemistry, Director of Nutritional Health Sciences, Emory University
Randomised controlled trial of oral glutathione supplementation on body stores of glutathione.
Link to study
Daily consumption of GSH supplements was found to be effective at increasing body compartment stores of GSH.
The 2014 six-month clinical trial, led by Dr. John P. Richie of Penn State University, evaluated the efficacy of Setria® Glutathione supplementation at enhancing body stores of glutathione, and the results show that glutathione supplementation may represent an effective intervention strategy to not only enhance body stores but also boost the body's immune function.
About the Study
Trial measured effect of glutathione supplementation at 250 mg/day and 1000 mg/day on glutathione levels in different blood components and exfoliated buccal mucosal cells over a six month period.
Subjects were 54 healthy adults (41 females/13 males), 28-72 years of age (mean=46.6 years).
Results of the study showed glutathione levels in the blood increased after one, three and six months vs. baseline at both doses.
At six months, mean glutathione levels increased 30-35 percent in erythrocytes, plasma, and lymphocytes, and 260 percent in buccal cells in the high dose group (P<0.05). 
Glutathione levels increased 17 and 29 percent in blood and erythrocytes, respectively, in the low dose group (P<0.05).
Natural killer cytotoxicity increased two fold in the high-dose group versus placebo at 3 months. 
A reduction in oxidative stress in both glutathione dose groups was indicated by decreases in the oxidized to reduced glutathione ratio in whole blood after 6 months.